This is where you can find access to introductions to best of breed companies such as:
It occurred to me that pretty much all of the things I'm working on at the moment have an international side - and an exposure to Foreign Exchange. It therefore made perfect sense to set up my own solution to save people significant amounts of money at the same time as improving transparency and the overall service offering. Your Circadian rhythms are your 24 hour body clock, and the FX market operates 24 hours - so you can arrange your trading for whenever you happen to be awake!


The Tangible Asset Company (Tanassco Ltd)
Founded in 2014 by Thomas Kelly and Jim Tatchell, The Tangible Asset Company was formed to help people find out about the newest and most exciting passion investments. At a very successful inaugural high-end conference in London's Berkeley Square in October 2014, guests were invited to meet fund managers in person to discover non-financial investments such as Classic Guitars, Rare Stamps and Coins, Art, Cars, Fine Wine and more! After our second conference in Dubai in April 2015 and our third in the City of London in October 2015, we are now looking at other locations for later in 2016.
Touchwind Financial Solutions (UK) Ltd
Touchwind is a German-based financial consulting business, with the London office headed up and managed by Tatchco Ltd. The company is historically built around ship finance, but has interests in several other areas such as sourcing innovation from London fintech into Central and Eastern Europe.
Finding a registered address, setting up an office, sorting out accountants and lawyers, opening UK bank accounts - we have done all of this and are now looking to build up the UK office to one day be the largest and most profitable branch globally.
First Option Technologies, based in Alresford, Hampshire, is a provider of outsourced helpdesk solutions. Any firm that has processes that would benefit from a 24/7 all-year-round insourced, onshore solution should be interested.
A huge variety of bespoke software solutions, including a very affordable app developer called YourMapp as well as an inhouse graphic design capability and rescue/repair.
Hosted by the well known city character Nick "Moose" Batsford, TipTV brings high-conviction tips during a two hour free internet TV show. Covering Finance and Sports, the show was conceived to provide insight and ideas to make you money!
Quite simply the best Trading Platform for FX and CFDs, together with market leading iPhone, iPad, Android and Tablet apps
Equinix
With annual revenues over $2bn, Equinix is an ecosystem of data centres. This is where the internet is and where your servers should sit instead of using up expensive space in your offices with increased risk to physical (spilt coffee or worse) and cyber threats.
Heckyl is a new data analytics provider based in London's fintech hub on Level 39 of One Canada Square in Canary Wharf, London. Using upwards of 1,500,000 data sources, Heckyl enables you to access the information that you or your clients want in a comprehensible format in a shorter time than ever before.
Tatchco helped Technancial in early 2015 to establish a stronger foothold in the London market, advising on introductions and market opportunities for its market-leading risk management and trade surveillance software.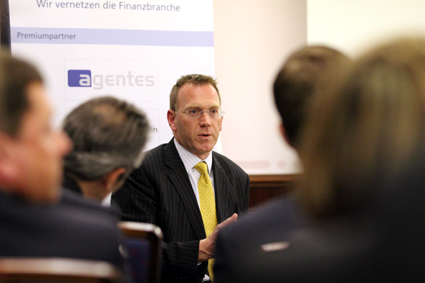 The Exidex (The Experienced Individual Ideas Exchange) has a mission to alleviate pressures caused by an ageing workforce that demands a new flexibility and freedom in work.
There is a huge resource of experienced, talented and well-connected people going to waste at the moment - out of work and job-hunting, semi retired and looking for a new challenge, or perhaps even just in a job that doesn't use the skills that they possess.
A recent Towers Watson / Economist Intelligence Unit research into workforce aging (here) is very clear on this issue - if we in the UK don't start to address the challenges very soon then we will suffer several severe and painful consequences.
Retirement is no longer a binary choice. It is not a question of in work / out of work these days. With recent technological and workplace advances, people can work from home or from an office. They can work flexibly, with far more control of hours worked, the type of work undertaken and the amount that they expect to earn from this work.
Imagine the power of being able to call upon someone that has 20, 30 or more years of experience, the knowledge of having lived through several boom and bust economic cycles as well as bringing thousands of connections, relationships and other subject experts to help your company.

We are building an umbrella organisation of such people (we call them "Exies"). We can be called upon at short notice to help your company assess performance against the rest of the market, or even it's own aspirations and business plan. Once your strengths and weaknesses have been identified, we will then highlight potential solutions, and send in an agreed number of Exies to you.
Here are some articles that I have published recently on the subject:
Please contact us using the details below or visit our website here.